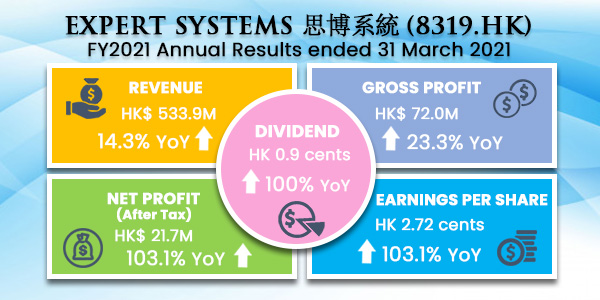 FY21 marked our 5th consecutive YoY revenue growth since listed with doubling earnings per share and dividend over FY20, a rewarding year for us despite a challenging economic environment. Our achievement was our employees' hard work and the tremendous support from our customers, partners, shareholders, and directors. We will continue our momentum in the year ahead.
Expert Systems Holdings Limited annual results for the year ended 31 March 2021.
Read the detailed results announcement here: https://www.expertsystems.com.hk/wp-content/uploads/2021/06/20210617-AnnualResultAnnoun2021.pdf
Highlights:
Revenue for the year ended 31 March 2021 ("FY2021") increased to approximately HK$533.9 million by approximately 14.3% from that for the year ended 31 March 2020 ("FY2020").

Gross profit for FY2021 increased to approximately HK$72.0 million by approximately 23.3% from FY2020.

Profit and total comprehensive income for FY2021 grew by approximately 103.1% to approximately HK$21.7 million as compared to FY2020.

Excluding the government subsidies of HK$4.5 million from the Employment Support Scheme under the Anti-Epidemic Fund recognized during the year, the adjusted profit attributable to owners of the Company for FY2021 amounted to HK$17.2 million, representing an increase of approximately 61.0% as compared with that of FY2020.

Earnings per share increased by approximately 103.1% from approximately HK1.34 cents for FY2020 to approximately HK2.72 cents for FY2021.