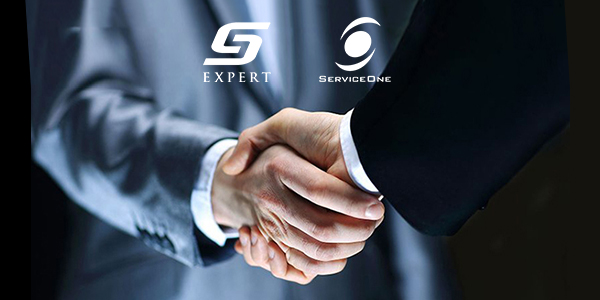 Today marks our historical and exciting moment. Expert Systems Holdings Limited (HKEX: 8319) announced its acquisition of ServiceOne International Holdings Limited has completed, expanding our combined presence and customer base across Mainland China, Hong Kong, Macau, Taiwan, and the Asia Pacific region (including Singapore, Japan, Korea and Australia) with over 800 employees.
Expert Systems Holdings Limited has completed the acquisition of ServiceOne International Holdings Limited on 8 October 2021.
For details please refer to https://www.expertsystems.com.hk/announcement-circular/.
Announcement:
Expert Systems Holdings Limited (HKEX: 8319) Acquires ServiceOne International Holdings Limited
HONG KONG, 8 October 2021 – Expert Systems Holdings Limited (HKEX: 8319), a leading IT infrastructure solutions provider in Hong Kong, today announced that it has completed the transaction to acquire ServiceOne International Holdings Limited from ServiceOne Global Holdings Limited.  The enlarged Group immediately positioned us as one of the largest IT services providers in the region.
ServiceOne International Holdings Limited and its subsidiaries (the "ServiceOne") comprising (i) nine companies established in Mainland China, Hong Kong, Macau, Japan, Singapore, Australia and the British Virgin Islands; and (ii) four branch companies established in Beijing, Guangzhou, Taiwan and Korea are principally engaged in IT services business for its corporate and institutional end-customers, which is the provision of post-implementation IT infrastructure management services, including outsourcing, helpdesk, workflow automation services, project management, and hardware maintenance.  Since the establishment of the above business in 1999, it has accumulated a strong customer base including global or multinational corporations, large enterprises in banking, finance, high fashion retail industries, government bodies and non-profit organizations.
Andy Lau, CEO of the Group, noted that this acquisition will broaden the Group's revenue base, improve its profitability and complement its existing business, allowing the Group to offer more comprehensive IT services to its customers, which will benefit the business development of the Group.  The enlarged Group is right at the best position in serving our customers and partners who are developing their businesses in the Guangdong-Hong Kong-Macau Greater Bay Area.
The acquisition is an excellent opportunity to complement the Group's IT Infrastructure Solutions Business, and represents a logical vertical extension to engage in the provision of post-implementation IT support services operated by ServiceOne.
About Expert Systems
Expert Systems Holdings Limited (HKEX: 8319) is a listed company on the Stock Exchange of Hong Kong since 12 April 2016.
Expert Systems is principally engaged in the IT Infrastructure Solutions business, which assesses, designs and implements IT infrastructure solutions for its customers by integrating hardware and software sourced from third party suppliers to satisfy various IT requirements and needs of its customers.  Founded in 1985, it is one of the long-established and renowned IT infrastructure solutions providers in Hong Kong based on the numerous awards and recognitions it has received from its manufacturer suppliers in recognition of its technical capabilities and exceptional performance in marketing their products.  It focuses on driving strategic development and growth in key business opportunities including (i) Hybrid Cloud, Multi Cloud & ''as-a-Service''; (ii) Container Technology & DevOps; and (iii) Cyber Security.