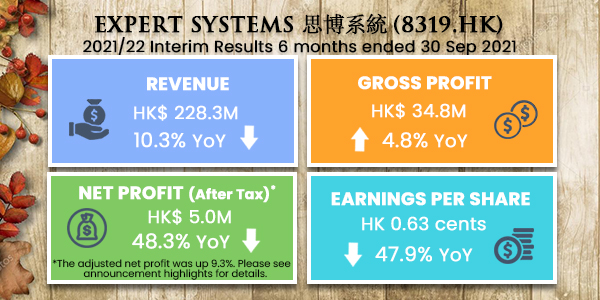 In the first half, we continue to deliver gross profitability improvements year-over-year.  Then we completed the transaction to acquire ServiceOne International Holdings Limited, expanding our combined presence and customer base across Mainland China, Hong Kong, Macau, Taiwan, and the Asia Pacific region (including Singapore, Japan, Korea and Australia) with over 800 employees. The enlarged Group immediately positioned itself as one of the largest IT services providers in the region.
Expert Systems Holdings Limited interim results for the six months ended 30 September 2021.
Read the detail results announcement here: https://www.expertsystems.com.hk/wp-content/uploads/2021/11/20211108-InterimReportAnn_Nov2021.pdf

Highlights:
Revenue for the six months ended 30 September 2021 ("Interim FY2022") decreased by approximately 10.3% from that for the six months ended 30 September 2020 ("Interim FY2021") to approximately HK$228.3 million.

Gross profit for Interim FY2022 increased by approximately 4.8% from Interim FY2021 to approximately HK$34.8 million.

Profit and total comprehensive income for Interim FY2022 dropped by approximately 48.3% to approximately HK$5.0 million as compared to Interim FY2021. Excluding the legal and professional fees of HK$3.1 million for the very substantial acquisition (the Acquisition as defined in Note 14 under Notes to the Condensed Consolidated Financial Statements) recognised during Interim FY2022 and the government subsidy of HK$2.3 million from the Employment Support Scheme under the Anti-Epidemic Fund recognised during Interim FY2021, the adjusted profit attributable to owners of the Company for Interim FY2022 amounted to HK$8.1 million (Interim FY2021: HK$7.4 million), representing an increase of approximately 9.3% as compared with that of Interim FY2021.

Basic earnings per share decreased by approximately 47.9% from approximately HK1.21 cents for Interim FY2021 to approximately HK0.63 cent for Interim FY2022.