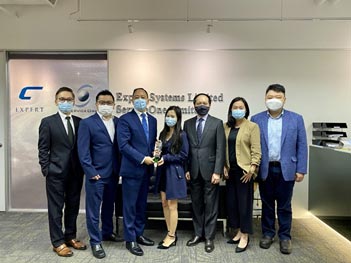 Expert Systems is proud to be ranked the top among other Hong Kong and Macau players in HPE's reseller channel ecosystem as we have been awarded HPE's "𝐓𝐨𝐩 𝐏𝐞𝐫𝐟𝐨𝐫𝐦𝐢𝐧𝐠 𝐏𝐚𝐫𝐭𝐧𝐞𝐫 𝐨𝐧 𝐂𝐨𝐦𝐩𝐮𝐭𝐞 & 𝐒𝐭𝐨𝐫𝐚𝐠𝐞 𝐅𝐘𝟐𝟎" by HPE (Hewlett Packard Enterprise) in February 2021.
This champion award recognizes Expert Systems' highest revenue contribution to HPE's Compute & Storage business and our significant year over year growth during the challenging year of 2020. Based on our strong foundation on HPE Hybrid IT Solutions, we further bring the new "as-a-Service" model to our customers through HPE GreenLake Cloud Services.
Thanks to the great support to us by HPE and our customers. Let's celebrate and keep moving forward!