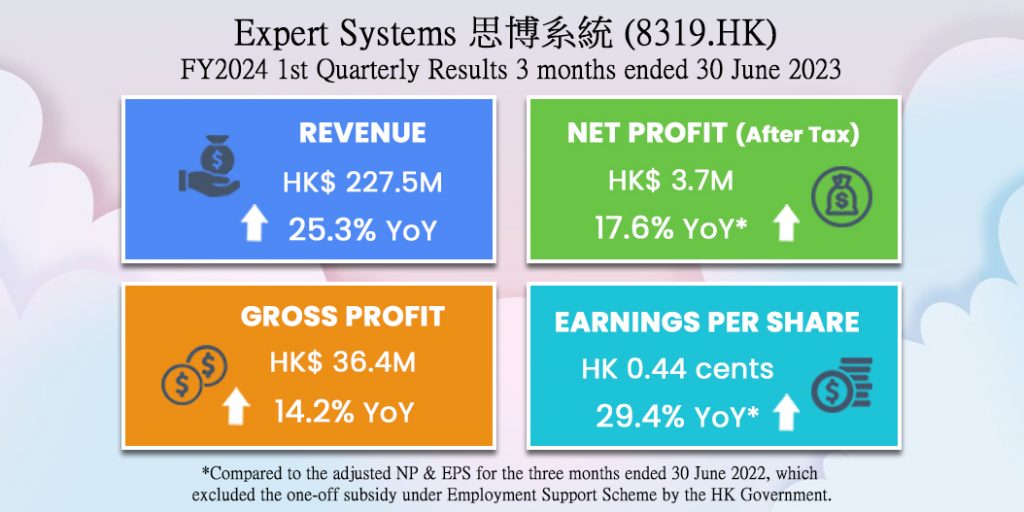 Expert Systems' Q1 FY24 Revenue Surge Around 25% y-o-y
* * * *
Driven by Growing Demand for both
IT Infrastructure Solutions and IT Infrastructure Management Services
(8 Aug 2023, Hong Kong) — Expert Systems Holdings Limited ("Expert Systems" or the "Group"; Stock code: 8319), a leading technology and innovation company in the Asia Pacific region, announced the unaudited financial results of the Company and its subsidiaries (the "Group") for the three months ended 30 June 2023 (the "Reporting Period").
During the Reporting Period, the Group's revenue increased notably by 25.3% year-on-year to approximately HK$227.5 million, which was primarily driven by the increase in demand for both IT infrastructure solutions and IT infrastructure management services. Gross profit during the Reporting Period amounted to approximately HK$36.4 million, representing a increase of 14.2%. The profit for the Reporting Period was registered approximately at HK$3.7 million, representing a growth of about 17.6% as compared to the adjusted profit* for the corresponding period of 2022.
Business Review
The Group operates through three distinct brands: "Expert Systems", which provides IT infrastructure solutions; "ServiceOne", which offers IT infrastructure management services; and "Expert AI Enabling" ("EAI"), which focuses on developing innovative AI products, solutions and services.
IT Infrastructure Solutions
During the Reporting Period, to capitalise on market opportunities, Expert Systems continued to strengthen strategic relationship with suppliers while enhancing specialised technical expertise and domain know-how on the latest and proven infrastructure solutions to deliver larger-scale projects. The Group also strived to develop a more diversified customer base across private and public sectors.
To capture the growing demand, Expert Systems' long-term plan includes a strong emphasis on 1) Hybrid Cloud, Multi-Cloud & "as-a-Service", 2) Cyber Security, and 3) Data & Application Solutions. These areas of focus enable the Group to provide higher-value, more comprehensive total solutions to its customers as they navigate their digital transformation journeys.
IT Infrastructure Management Services
IT infrastructure management services business of the Group anticipates continued demand for high-quality services across the Asia-Pacific region. This includes IT outsourcing, helpdesk support, workflow automation services, and IT hardware maintenance. ServiceOne's recent expansion in Kuala Lumpur, Malaysia strengthens its resources' geographical distribution, ensuring resilience in serving customers amidst the global economic uncertainties. The Group remains committed to providing exceptional services and meeting the evolving IT needs of enterprises and institutions in the region.
ServiceOne is committed to exploring new business opportunities – it aims to expand its customer base by targeting new industries across the Asia-Pacific region, while also creating additional value for its existing customers. To achieve such goals, ServiceOne has expanded its services portfolio to include consulting services and vertical retail solutions, to better meet the evolving needs of its customers and provide them with a more comprehensive suite of services. Furthermore, ServiceOne plans to establish 10 additional branches in key cities in mainland China, including Nanjing, Shenzhen and Wuxi etc., by the end of this year.
AI Business
During the Reporting Period, the Group remained dedicated to the development and provision of products, solutions, and services that empower customers to leverage the power of AI across various business sectors and enterprises. With the market witnessing robust demand for AI, the Group firmly believes that its AI offerings will enrich its comprehensive IT solutions portfolio and align with Expert Systems' growth strategy. By capitalizing on this trend, the Group aims to deliver enhanced value to its clients and further solidify its position in the industry.
Mr. Andy Lau, CEO and Executive Director of Expert Systems, concluded: "Looking forward, we remain committed to our core businesses in providing innovative and integrated products, solutions and services to both private and public sectors across the Asia-Pacific region. We are dedicated to reinforcing the resilience of our organization to effectively navigate the evolving business landscape as the local and global economy gradually recovers. Our commitment to innovation fuels our passion for providing exceptional value and driving success for our customers."
Read the announcement of the detailed results here: https://www.expertsystems.com.hk/wp-content/uploads/2023/08/20230808-FirstQuarterReport2024.pdf