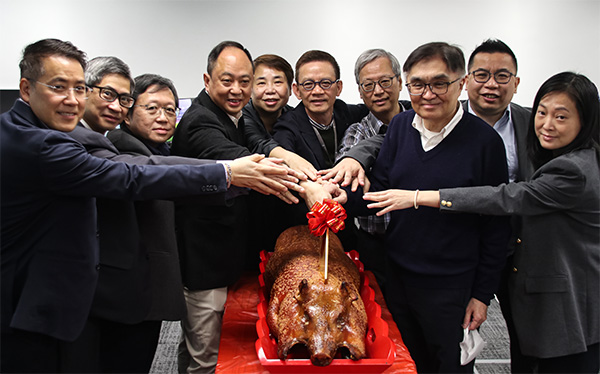 Specializes in Innovative AI-enabled Products and Solutions Enables AI Adoption Across Industries
(28 February 2023, Hong Kong) — Expert Systems Holdings Limited ("Expert Systems" or the "Group"; Stock code: 8319), a leading IT solutions and services provider in Hong Kong, celebrated the grand opening of the new R&D lab of its subsidiary, Expert AI Enabling Limited ("EAI") on 23 February 2023.
EAI is a joint ventured established by Expert Systems and Dr. Keith Chan, a former Professor of Computing Science, on 21 June 2022. EAI specializes in the development of innovative products and solutions that enable schools, enterprises, and government organizations to make the best use of AI in their business.
Dr. Keith Chan, Chief Technology Officer of EAI, is ranked among the top 2% of scientists in the world in the field of Artificial Intelligence and Image Processing on Stanford University's list of top scientists. He explained: "We aim to offer unique and customized solutions that are tailored to the needs of continuously evolving industries, enabling everyone to take advantage of advanced analytics methodologies to discover new insights for innovative ideas. We specialize in machine learning, data analytics, image and speech processing, and natural language processing (NLP) and more. In particular, we are currently developing products based on NLP technology such as ChatGPT.
Innovation and technology is among the key policy priorities of the HKSAR Government. In view of the growing demand for AI, I look forward to EAI in developing the most cutting edge solutions and products for clients all over the globe."
Mr. Andy Lau, CEO and Executive Director of Expert Systems, said: "It is my honor to present the new R&D lab of EAI which marks another significant milestone for the Group. As a tech company, we are committed to investing for the future, and we believe AI is the future which has enormous potential to benefit humanity. As a group, now that we have developed our own products and intellectual properties, we are no longer solely focused on reselling third-party technology products and providing the relevant services. Looking forward, with our extensive technical expertise, business strength and operational capabilities, we're fully confident of achieving sustainable growth and delivering value to our shareholders in the long run."
– End –
Read the complete press release here: https://www.expertsystems.com.hk/wp-content/uploads/2023/03/20230228_EAIGrandopening_pressrelease.pdf