Expert offers comprehensive services to address your needs at different stage of your company's IT life cycle.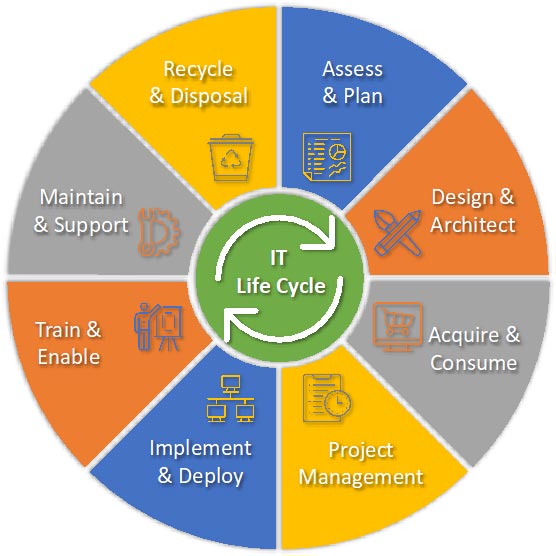 Access & Plan
Conduct technical assessment and planning according to customer's business requirements.
Implement & Deploy
Technical professionals have broad competence for multi-vendor implementation and deployment.
Design & Architect
Design solution and architecture using best practices to meet customers' technical requirements.
Train & Enable
Training and enablement help customers get the most out of their IT investment.
Acquire & Consume
We help customers to acquire and consume technology products and services from 300+ global brands.
Maintain & Support
1st line helpdesk, maintenance support, and incident management give you peace of mind.
Project Management
Our team of experienced PMP® ensure large-scale IT projects are well managed for success.
Recycle & Disposal
End-of-life management of IT equipment, from data destruction to recycle and disposal.
Digital Transformation Services
Cloud Infrastructure Services
We help you plan, build, configure, integrate, migrate, orchestrate and maintain your infrastructure across data center, private cloud, public cloud, and hybrid cloud environments.
as-a-Service
IaaS (Infrastructure-as-a-Service)
PaaS (Platform-as-a-Service)
SaaS (Software-as-a-Service)
Application Modernization
Modern App Transformation consulting
On-premises or multi-cloud Kubernetes Platforms implementation
Container and Kubernetes (K8S) Platforms education
Agile / Scrum Project Management Training / Team Building
DevOps training / consulting / coaching / resources outsourcing
Infrastructure Solutions Services
Capacity Planning
Capacity Planning involve sizing of server, cluster, storage, network, power and cooling.
DataCenter, Server, Storage, Virtualization
Server farm expansion
Storage capacity expansion
Data migration
System migration
Physical-to-Virtual (P2V) migration
Virtual-to-Virtual (V2V) migration
Backup and Recovery
Backup and Recovery plan design
Disaster Recovery (DR) plan design
Disaster Recovery (DR) Drill test
Cyber Security & Networking Services
Cyber Security
Vulnerability Assessment Services
Network & Security Infrastructure Consultation
Network & Security Health Check
Networking Services
Network design and architecture
Routing and Switching deployment
Security Appliances and Firewalls deployment
WAN optimization
Virtual Private Network (VPN) deployment
Structured cabling
Project Management & Deployment Services
Project management
Scope Management
Risk Management
Communication Management
Execution Management
Testing and Quality Management
Deployment Management
Multi-vendor management
Sub-contractors Management
Deployment
Site preparation
Imaging & Pre-configuration
Hardware rack mounting
Systems deployment
Systems upgrade
Data Center relocation
Systems administration training
Maintenance and Support Services
Maintenance and Support
Backup and Helpdesk and Hotline support
System diagnostics
Root cause analysis
Onsite maintenance
Patch management
Firmware management
Incident Management
Consulting & Application Management Services
Cyber Security Consulting
Risk assessment
Cybersecurity Compliance reviews and advisory
Cybersecurity framework implementation
Business continuity plan
Identity and access management
Security event and incident management services
Vulnerability management
Incident readiness and response management
Threat modelling and management
Cloud security risk assessments
Cybersecurity Staff awareness training
Cybersecurity Scoring
Virtual CISO Advisory
Data classification
Application Management Services
ITIL / IT Services Management
IT Operations Management
IT Asset Management
Operational Workflow Management
Business Process Automation